Sensei Zvonko Celebija is world's highest ranking referee in Ontario in the last 25 years and Chief referee in Ontario for 20 years, recipient of Ontario Sport Award, recognized to the Masters Hall of Fame in Los Angeles.
Recognitions and special awards
2000 – NKA Official of The Year Award (National Karate Association of Canada)
2001 – Karate Ontario Official of the Year Award
2002 – Honduras Karate Federation recognition for bringing Shotokan style to Honduras
2003 – Karate Ontario Hall of fame
2004 – PKF Recognition to Elevate Karate in Pan-American Karate Federation
2004 – Uchiage-kai Award for Contribution of Karate Do
2007 – Ontario Sport Award
2008 – Syl Apps Achievement Award
2010 – Masters Hall of Fame, Los Angeles
Tournaments, officiating, licenses
1973-1978 – Competed at Provincial & International Tournaments
1985 – Won Team Kumite gold medal at the IKA World Championship (Captain of the International Karate Team Canada)
1986 – Started Officiating
1989 – Pan-American Karate Federation (PKF) Official
1994 – World Karate Federation (WKF) Official
1996-2016 – Chief Referee in Karate Ontario
1998 – WKF Referee B
2012 – World Karate Federation full kata and kumite license
2013 – Pan-American Karate Federation Referee Committee member (5 members only)
2015 – Technical Director for Pan-Am Games in Toronto
Dans Received
Sensei Zvonko is one of a few people who can pride himself for receiving all his belt ranks from the same Master, Master Takemasa Okuyama (10th Dan Shotokan)
1972 – Started Karate with Master Okuyama
1974 – Received 1st Dan (Shodan)
1977 – Received 2nd Dan (Nidan)
1981 – Received 3rd Dan (Sandan)
1985 – Received 4th Dan (Yondan)
1988 – Received 5th Dan (Godan)
1995 – Received 6th Dan (Rokudan)
2006 – Received 7th Dan (Shichidan)
2017 – Received 8th Dan (Hachidan)
Refereeing Tournaments
Sensei Zvonko Celebija was referee at over 300 tournaments all around the world, some of which are:
23 WKF (World Karate Federation) tournaments
28 PKF (Pan-American Karate Federation) tournaments
8 North-American cups
3 Pan-Am Games
36 National Championships
12 Kubota Cups, Toronto
6 Kubota Cups, International (Italy, USA, Australia, Croatia, Japan)
8 US Open
2 Paris Open
1 Dubai Open
6 Big Apple, USA
5 Croatia Championships
12 Gojo-Kai, Uchiage tournaments, Vancouver
2 Honduras Championships
3 Open Championships, Toronto
10 CNE Canadian Championships
1 Bahamas International
110 provincial championships in Ontario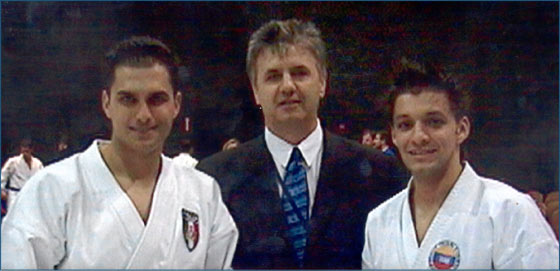 Sensei Zvonko with two Kata World champions Luca Valdesi and Antonio Diaz

Sensei Zvonko Celebija awarded Syl Apps
Achievement Award
THE SYL APPS SPECIAL ACHIEVEMENT AWARD is presented annually by the Province of Ontario to Ontario volunteers who have contributed to the development of sport in the province. Sensei Zvonko Celebija received this prestigious award at the ceremony on April 24, 2008. The only other person from karate sport that received this award was Sensei Masami Tsuruoka in 1980.